March 4th Workshop was a Great Success!
August 19th, 2012, was also Successful!
More on Egypt is in the works…
"Loved the workshop..All the hand-out materials are great to keep and "ponder"!!
Your knowledge and love of Egypt made your presentation electric..."
-- Bev Allen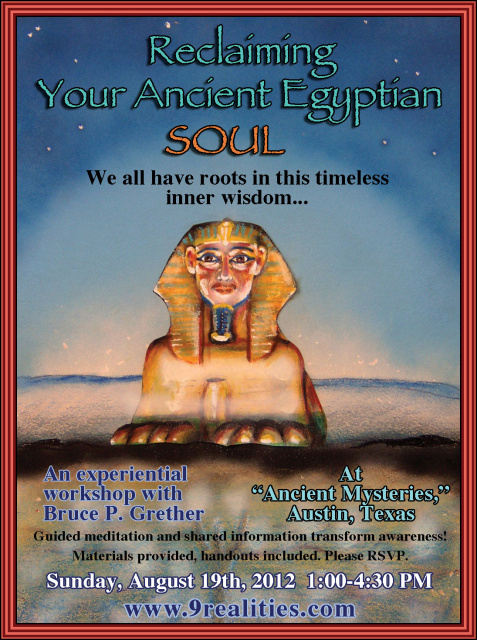 This workshop is relevant to anyone and everyone in today's world, regardless of your path or culture. In the midst of a major planetary transformation, it helps to go within and reclaim the authentic core of your being. The better you know your innermost essence, the more effectively you can surf the changes going on.
Everyone in today's global civilization has some spiritual roots in the culture of Ancient Egypt. If you feel in any way drawn to that culture, this workshop is for YOU!
Discover the Seven Sacred Spirits of Your Soul

Reconnect your human nature with Nature itself

Learn the intuitive key to all Egyptian writing and art

Be able to "read" Egyptian culture without further study

Remember who you are on the deepest levels

Allow your Third Eye to open

Connect with Ancestors
Rediscover your innate wholeness as you reclaim this spiritual heritage that already lives within you. Though you will be provided with specific information and images, this workshop is really about awakening from within your body what already exists on the cellular level.
My personal path took me to Egypt at age 4 years and since then I have been fascinated with Ancient Egypt and studied the subject for over 50 years. I have absorbed numerous other teachings, however I always circle back to Egypt. A deeper connection with that ancient culture helps today's world to make more sense to you.
During the workshop you will experience guided meditations, spiritual practice, and instruction in aspects of Ancient Egypt that are little known. A packet of original information will be yours. A simple core of imagery and patterns of meaning will open for you the vast riches of this heritage and make it clear.
Sunday, August 19th, 2012 from 1:00-4:30 PM at Ancient Mysteries in Austin, Texas. Ancient Mysteries is a full line Wiccan/Pagan Metaphysical Shop located at 209 E. Ben White, St. 202, Austin, Texas 78704.
Please RSVP and pre-payment is required, as I need a head count! Cost = $35-$50 sliding scale (pay what you can). One scholarship will be provided.
Last day to RSVP is August 12th, 2012.
To RSVP and for instructions on how to pay, contact Bruce via email at "bgrether(at)austin.rr.com" with subject line "Egyptian SOUL." If you wish, I will be glad to talk with you about the workshop.