A Wisdom Book for All Kinds of Men!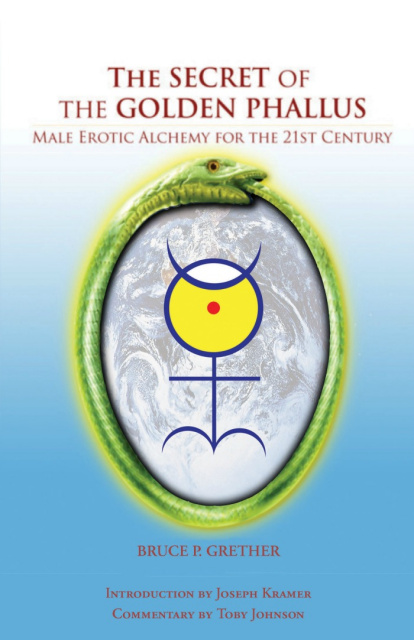 Available in paperback at Amazon.com
(Kindle version on the same page)
Check out the interview HERE!
Praise for The Secret of the Golden Phallus:

Date: Wed, 23 May 2012 23:34:35 -0000
Subject: The Secret of the Golden Phallus
I have now read the above book by Bruce P. Grether. Hey, this is gospel. This is "good news". The worshipful, mindful practice is there and it is backed up with mythology (in the vein of Joseph Campbell) which adds depth and a spiritual flavor. And there is more. That cosmic Oneness and a Blakeian mysticism as in "To see the universe in penis and experience eternity in the palm of your hand". And this, of course, brings us full circle back to the practice of male erotic alchemy itself. The material and immaterial worlds are fused, perhaps even one and the same. Good news, indeed.
—Robert Packard
The Secret of the Golden Phallus has opened my eyes to the possibility of true healing. I have spent so long looking outside of myself for something that could help connect me to the Divine. I now realize it was right between my legs the entire time! I think I found my blue flower...

—Blue Tyger


In this frank, informative, and life-enhancing work, Bruce Grether, serves as a savvy guide and intrepid crusader, one who uses at-the-ready humor and a vibrant, sweeping sense of esoteric knowledge and long-suppressed tradition, to celebrate the divine masculine on earth. Erotic alchemy and phallic power, these are sacred, masculine avenues, Grether makes convincingly clear, eminently worth exploring and reclaiming. For spiritual and sensual seekers, this is an intriguing, impressive, and ultimately liberating book. Don't miss it!

— Cyrus Cassells, author of Beautiful Signor
*
This book can transform how you see yourself and can even change your life. Major taboos remain around male genitals and eroticism, taboos that you must dissolve in order to reclaim who and what you really are. It is time on our rapidly changing planet to merge the erotic with the sacred, and for you to reclaim your body as a temple. Revealed here as never before, is the authentic phallic wisdom of Male Erotic Alchemy for too long deliberately obscured by the dominant cultures. Ancient wisdom combines with cutting-edge practices that are simple, yet powerful tools you can actually use. The Triple God concept and the three forms of Male Solo Sex Magick will unleash your creative, sustaining, and regenerative powers. You are encouraged to honestly embrace your own phallus and enhanced erotic ecstasy as the legitimate core of your male identity. The Secret of the Golden Phallus will help you to become a happier, healthier, more balanced man.

With an Introduction by Joseph Kramer and Afterword/Commentary by Toby Johnson
*
More Praise for The Secret of the Golden Phallus:
The book has really awakened my sexual connection with my penis. The DVDs really changed my life. I am more connected with my penis than ever. Have also dropped the taboos of mutual masturbation or masturbating with others. I am now reading the book and wake up in the night numerous times with my hands on my penis, stroking. I try to worship and pay attention to my penis throughout the day. Love to play with my nips and watch the reaction in my penis. Also I'm more open to discuss masturbation and instead of closing my office door at home to masturbate I leave it open. My other half has not accepted this new role of independence, but I am very open. I am naked at home all the time and frequently pay attention to my penis. Thanks again for your opening up our lives to our penis and to love our penis.
— Draco
With no previous knowledge or experience in tantra or any other sexual methods of exploring consciousness, this book has given me back the only tool I never knew I needed - the one between my legs! By revealing the Secret in a fascinating, easy to understand way, Bruce is helping me open my heart to loving myself and experiencing pure bliss, and now I can share the same with others. This is the new earth I've been waiting for!
— Blue Tyger
*
Also be sure to check out the 3-Part Interview on YouTube about the book, if you have not seen it. Tell other people too! Wow!

My premiere on YouTube HERE! ... Plus Part 2 and Part 3!